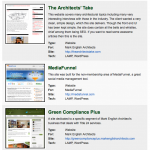 I think we are ready for a break and to get back to the other web development business at hand, but we are truly happy with recent enhancements to our WEBphysiology Portfolio plugin for WordPress and wanted to let everyone know what's been going on.
Since our initial release, which we think was pretty special, we've received a lot of kudo's along with suggestions to make this plugin even better. So, we decided to spend some time to add new features that we felt would benefit the community of users at large. The results of these efforts are as follows:
Enhanced the ability to tailor the types of Portfolios displayed in a call to the Portfolio shortcode.
Added the ability to include more than one Portfolio shortcode per page.
Added the ability to turn off Portfolio attributes from the end user interface.
Added the ability to re-label Portfolio attributes on the end user interface.
Added the ability to sort the Portfolios alphanumerically, which is great for a "Bio's" page.
Added the ability to assign a custom missing image.
Added the ability to have ShrinkTheWeb.com generate your thumbnail images.
Added the ability to specify an image from a different domain.
Added the ability to have an image click action take you to another web page instead of opening a thickbox.
Added a color picker to the options screen to make selecting color values easier.
Cleaned up the Options administration screen to just lay things out a bit better.
In addition to the actual enhancements, we've started to put together some training videos to supplement our Portfolio documentation.
We now will be taking a break and getting back to other work at hand. We appreciate that you like our plugin and that you've communicated issues you may have encountered as well as suggestions to make it better. We still are open to receiving these but the activity around enhancing this plugin will scale back. If there is something you just have to have, let us know and we can provide you with a bid to enhance it for your use.
We love donations and cherish 5-star ratings as well as folks who follow us on Twitter, Facebook, Youtube and subscribe to our Newsletter and RSS feed and email, so, please join the community.
Note: There are certain requirements that exist for utilizing the WEBphysiology Portfolio WordPress plugin. They are as follows:
WordPress 3.0 or better as this plugin uses custom Post Types and custom Taxonomies.
PHP 5.0 or better as we are utilizing some code that was not available in previous versions of PHP. You may, however, run any version of WEBphysiology Portfolio prior to version 1.2.0 and not incur the wrath of older PHP limitations.
A creative mind. 🙂 We'd love to see how you've used this plugin and hope to generate a "Portfolio Showcase" highlighting these. So, leave a comment or send us a note and we'll add you to our showcase when it premieres.
For support questions or issues, please first read the documentation and, if you still are having issues or questions, open a ticket, leave a comment on the WEBphysiology Portfolio WordPress plugin page or drop us a note.