Wow, I'm glad I actually read one of those product propaganda emails yesterday. This one was from Techsmith. If you don't know who they are, they publish Camtasia, SnagIt and other products as well as run Screencast.com. I've been using their products for quite a long time, mainly on Windows OS systems, and I really like them.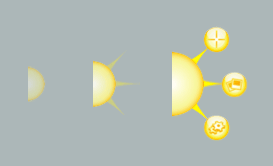 When I started my migration back to the Macintosh platform I was missing my SnagIt tool. Finally, Techsmith released their SnagIt beta for the Mac product. Yay! It worked pretty much just like the Windows version and I was happy once again.
Well, now I'm not just happy but ecstatic! When I got the Techsmith newsletter I decided to take a quick look to see what Jing was all about. What it is is simply amazing. Not only can it screen capture images from your screen but it can capture video segments from your screen too. Then you can VERY quickly share the capture in a host of different ways.
Here's an example of how I used Jing today. I was doing a review of my personal blog and the tool I was using was noting that the domain was set to expire in four months. When I checked my records I had it down as expiring more than 12 months out. Well, I did some further investigating and opened a case with the hosting provider, Moniker.com (normally a great hosting company). As part of my details to them I wanted to include snapshots of confirmation emails…. This was so easy as I took a quick shot using Jing and then saved it up to my free Screencast.com account, which automatically put the link in my clipboard. A quick paste into the support ticket and walla! I had a well documented support ticket posted.
If you want a well designed, efficient tool for sharing screenshots… then you'll find it worth your time to check out this tool from Techsmith.