From time-to-time WEBphysiology produces how-to videos that we hope our clients, and the general surfing public, will find useful. Check back periodically to see what's new. You also can subscribe to our YouTube Channel and we hope you become a friend on our Facebook Page.
Now onto the video library:
Facebook Videos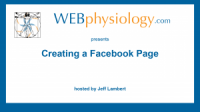 Creating a Facebook Page (7:01)
Creating a basic Facebook Page for your organization is fairly easy. You first will need a Facebook account. The Facebook Terms of Service are such that you are only allowed to have one Facebook account. This is fine as the Facebook Page doesn't reflect (more…)
WordPress Videos
Adding a WordPress Plugin (6:04)
Perhaps you are new to WordPress or you are a site administrator and not the person who built the site. In any case, WEBphysiology has produced a video that will help you when it comes to ad (more…)
YouTube Videos
Creating a YouTube Playlist (4:33)
Part of the maintenance of a website built upon the powerful WordPress publication engine is to periodically review plugins that have updates released by the plugin's author. It is recommended that (more…)
WEBphysiology Portfolio Videos
If you would like to follow along with an instructional video series that will walk you through the installation and configuration of the WEBphysiology Portfolio, you can do so using one of the chapter links (click on the image) below or simply start off with the first video in the series by using the "play all" link just above and to the right of where you are now reading. You can find complete details on the WEBphysiology Portfolio Plugin page.
Part 1: Initial Installation & Configuration (8:10)
Please note a couple of changes since this video was created:
The shortcode used to display the portfolio records has changed from [portfolio] to [webphysiology_portfolio]
The options for the plugin are now accessed from within the "Portfolio" menu group