At WEBphysiology we offer several flavors of Facebook Pages to fit everyone's budget and design goals; from simple, single page themes to multiple sub-navigation tabbed pages. Looking for something more than what we offer off-the-shelf, then just give us a shout and we'll create a custom design especially for you. Sample pages are available on our Facebook Page or click an image below to go straight to the sample for that design. While you are there, click the "Like" button!
Let's Get Started
Just drop us a note for more information or to get started on a project today. We're always here to lend a hand.
Basic Facebook Page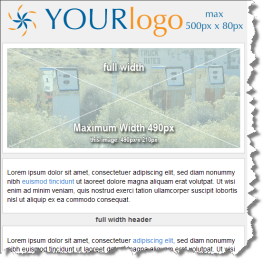 You provide a combination of any of the following:
Your logo
Properly cropped and sized images
Text content
and more…
In return, we will provide FBML (Facebook Mark Up Language) code for you to paste into the Static FBML Application tab on your Facebook Page.
Need help setting this up? We can provide you with documentation or we'd be glad to do it for you.
A Basic Facebook Page is only $149.00 and a simple button click away!
Facebook Page w/ Sub-Navigation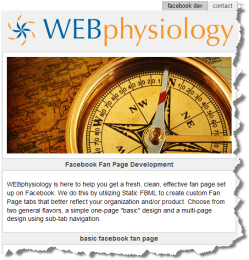 Want more of a micro site within your Facebook Page? We can help with that too by adding sub-tabs within your custom Page. Each sub-tab page works like a basic tab page, so, you'd be providing the same type of information for each tab as you did for a single page.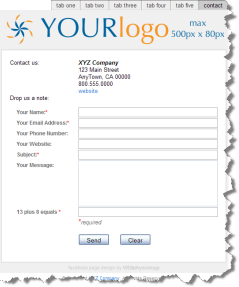 Want a contact form on your custom Facebook Page? One of the tabs can be converted to a contact page. This counts as one of the sub-tabs.
EXTRA! EXTRA!
The Facebook Page custom Contact Form now supports the Salesforce web-to-lead form! Just provide us with your SFDC Organization ID and be on your way to having a more integrated, efficient method for capturing Salesforce leads from Facebook.
Facebook Page w/ Sub-Navigation
What's the Process?
After we receive your order we will provide you with instructions on what you will need to provide. Basically, this consists of the following:
Properly sized logo artwork
Content text by tab noting headers, image placement and links
Properly sized images
Contact tab information if this is being included
We will then build your Facebook Page in a staging area for you to review. We will make one additional pass to adjust any placement or other changes you want to make to images or text. Once this is complete we will provide you with instructions on how to add this to your Page or we can install the code for you.
Requirements & Disclaimer
Any graphic elements (e.g., logo, photos, vector art) included within your custom-built Facebook Page will need to be hosted from your website. You would provide us with the URL addresses to these images. If you are not able to host your own images, we can host them for you at $10 per image per year. Or, better yet, you can host them with a free service like TinyPic.
If you are including a Contact Form on your custom Facebook Page, you will need to host the PHP page that is called when the contact form is submitted. This page generates the email or, if you have opted for the SalesForce web-to-lead form, posts the lead record to SalesForce. We do not currently provide hosting for the contact form service.

While we do our best to stay ahead of the Facebook roadmap, we cannot warrant that a page that is developed for you today will function in the future should Facebook make changes that impact code execution or layout parameters. We will correct any issues with what we delivered within 30 days of delivery. Should your page encounter issues after 30 days, we can provide you with billable services to get things back in shape.