An error was encountered in the request to ShrinkTheWeb.com:
    errno: 52
    error: Empty reply from server

An error was encountered in the request to ShrinkTheWeb.com:
    errno: 52
    error: Empty reply from server

An error was encountered in the request to ShrinkTheWeb.com:
    errno: 52
    error: Empty reply from server

An error was encountered in the request to ShrinkTheWeb.com:
    errno: 52
    error: Empty reply from server

An error was encountered in the request to ShrinkTheWeb.com:
    errno: 52
    error: Empty reply from server

An error was encountered in the request to ShrinkTheWeb.com:
    errno: 52
    error: Empty reply from server

An error was encountered in the request to ShrinkTheWeb.com:
    errno: 52
    error: Empty reply from server

An error was encountered in the request to ShrinkTheWeb.com:
    errno: 52
    error: Empty reply from server

An error was encountered in the request to ShrinkTheWeb.com:
    errno: 52
    error: Empty reply from server

An error was encountered in the request to ShrinkTheWeb.com:
    errno: 52
    error: Empty reply from server

We have been very fortunate in the acceptance of our first publicly released WordPress plugin and want to share with you those sites that we are aware of that are finding our plugin useful. Hopefully these sites will provide some inspiration for you.
If you are using the WEBphysiology Portfolio plugin on your site, let us know and we'll add your site to the showcase. Just send us a brief description of how you are using the plugin and the URL to the page where you've got it running.
For detailed plugin info, visit the WEBphysiology Portfolio WordPress Plugin page.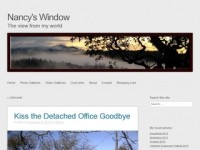 Nancy's Window
I wanted some way to point to my monthly photo pages in a visually appealing way and I spent hours, actually days, looking for a plugin that could display images in a grid, with a link that I could specify and the ability to add a text description. Now that I have found your plugin, I can see other things I can do with it on some of my other sites.
note: this portfolio is using ShrinkTheWeb.com, so, enlarged images won't be of a high quality. Visit the site to get a better look.