I don't know as we'll be pushing out a ton of plugins publicly, but as we do we'll add them to this page. Sign up for our Newsletter, RSS feed, Facebook Page or Twitter stream to keep on top of this and other wonderful things happening at WEBphysiology!
If we can be of assistance in anyway, just Give Us a Shout.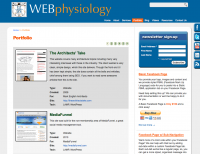 WEBphysiology Portfolio
The WEBphysiology Portfolio plugin allows for an expanded list style or grid style portfolio that provides for the inclusion of a screenshot / photo / … along with a description and other related information. The plugin is implemented via a parameterized [shortcode].
We hope you enjoy it! For complete details on implementation and usage, check out the WEBphysiology Portfolio plugin page.
We use this plugin ourselves. You can see it in a few spots on our site:
You also can find it in the WordPress.org Plugin Directory.